May 28 2013
Super Readers love Super Why! Super Why costumes for Halloween will be a big hit with kids who watch this popular PBS kids show based on some of kids favorite stories like Jack and the Beanstalk, The Three Little Pigs, Little Red Riding Hood and The Princess and the Pea. Kids learn reading skills in a superhero way.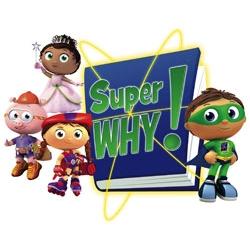 Super Why!
The characters from the Super Why episodes make great Halloween costume ideas for kids. Parents like the positive role models and educational programming. The characters from Storybook Village are fun for kids costumes.
Super Why Costume
Wyatt Beanstalk is the leader of the Super Why Super Readers and kids will love being this green masked superhero for Halloween. With this green outfit, blue cape and blue super book emblem on the chest, this little story book adventurer is ready for reading and Halloween.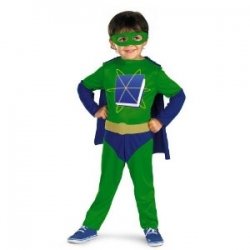 Super Why – Size: 3T-4T
Super Why Wonder Red Costume
Super Why Wonder Red is a super reader adventurer from Storybook Village. This Little Red Riding Hood character is great at reading and helping out on adventures. It makes a great Halloween costume for girls who are fans of Super Why!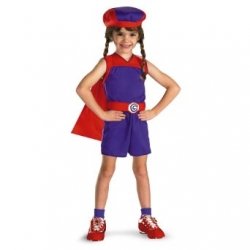 Wonder Red – Size: Child L(4-6X)
Super Why Cape and T-Shirt
A Super Why T-Shirt with cape is a fun way for little super readers to play dress up. Princess Presto and her spelling power will save the day.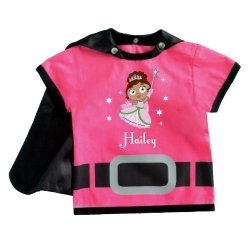 Super Why! Princess Presto Super T-Shirt
Woofster helps out the super readers with dictionary power.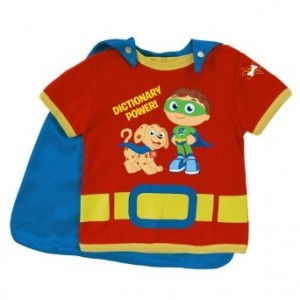 Super Why! & Woofster Super Readers! Red Super Tee
Both of these Super Why Tee Shirts with Capes can be personalized with your child's name.
Super Why Trick or Treat Bags
You need a Super Why Trick or Treat bag to go with your Super Why Costume. This black trick or treat bag can be personalized with your child's name and will hold all their Halloween candy. The bag would also make a great library book bag to carry your child's library books in after Halloween.

Super Why! Super Readers Black Trick-or-Treat Bag
Here is another Super Why Trick or Treat Bag for your Super Reader. Both of these treat bags can be personalized as well.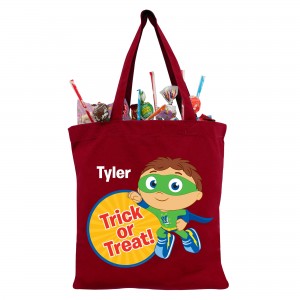 Super Why! to the Rescue Red Trick-or-Treat Bag
No related posts.
Related posts brought to you by Yet Another Related Posts Plugin.
Leave a Reply